It was kind of a nothing burger: At Publicola, Josh Feit reports on this legislative session's Elway Poll, in which lobbyists anonymously gave lawmakers in Olympia a collective D+, and 12 percent of respondents listed the legislature's second most significant accomplishment as "they did no damage."
More than half: That's the number of hospitals in Washington state that didn't meet this week's deadline to disclose their policies on admissions, reproductive healthcare, end-of-life care, non-discrimination, and charity care, reports Modern Healthcare.
There's always an elephant to ride: Gloria Steinem turned 80 on Tuesday, and talked to Gail Collins at the NY Times about adventures, solidarity with flight attendants, mortality, and feminism.
Hobby Lobby at SCOTUS, Day 1: "Women Justices Rock the Hobby Lobby Argument" is the New Yorker's actual headline. More specifically, Justices Ginsburg, Sotomayor, and Kagan rocked it with 28 commonsense questions and powerful criticisms. Kagan won our hearts with this gem of compassion and realness: "When the employer says, 'No, I don't want to give that,' that woman is quite directly, quite tangibly harmed."
If Hobby Lobby Wants to Deny Insurance Coverage of Birth Control It Should Stop Selling Knitting Needles, Too: Must-read commentary on the Hobby Lobby case at the Huffington Post from Lynn Paltrow, Founder and Executive Director of National Advocates for Pregnant Women.
On intersectionality and Hobby Lobby & crafting while feminist: Here at A Few Choice Words, we wrote about the domino effect a pro-Hobby Lobby ruling could have for LGBT healthcare, and Hobby Lobby alternatives for the discerning, pro-choice crafter.
It's clear that this amendment is about conflating early pregnancy loss with post-20 week fetal demise and stillbirth: Things aren't looking good this week for women in Kansas. As the state prepares to defund Planned Parenthood, Slate reports that a bill in the Kansas legislature would require doctors to report all miscarriages.
More prosecution of women and girls for "everything from miscarriage to abortion": In case you missed it last week, here's ProPublica on what happens when pregnancy loss is criminalized.
The whole point is to get people covered: The Obama administration has extended the deadline for insurance signups through Healthcare.gov, reportsThe Washington Post.
In this Washington, the Seattle Times reports that 125,000 people have signed up for health insurance through the state exchange.
There but for the grace of coverage, go I: The LA Times investigates the lack of positive Obamacare stories, and finds several.
Our Feminist Killjoys of the Week? Easy. It's these ladies: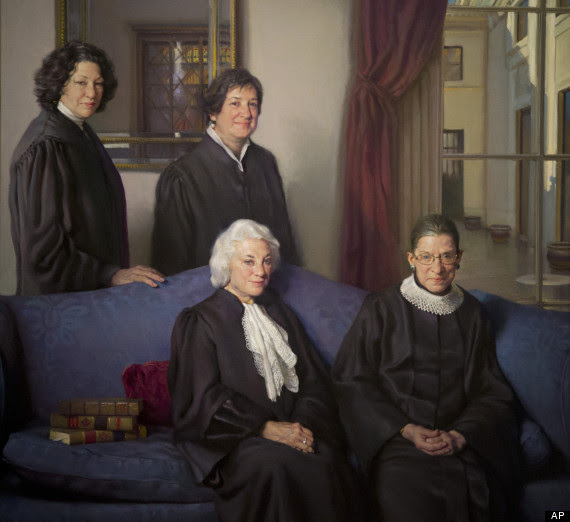 and these ladies:
Have the best weekend.
Click here to subscribe to the Friday Femorandum.