This week featured the NINTH Democratic Presidential debate (207 days to go!) with no questions about abortion or women's reproductive rights in general; it also marked the passage of Equal Pay Day, the date when the average woman's pay catches up with what the average made the previous year (women of color won't see their pay catch up until significantly later in the year.) Let's celebrate our 79 cents and the slow approach of Election Day with a recap of some news, shall we?
Those lovable wonks at the Economic Opportunity Institute have an excellent primer on what the pay gap means for women in Washington state, which includes the most succinct explanation we've heard yet for the persistent pay gap between men and women: "Occupational segregation and devaluing 'women's work.'" In other words, women have a hard time getting jobs in male-dominated industries for many reasons including institutionalized sexism, and society fails to value the jobs women do have, like jobs that involve caregiving, teaching, and household labor.
If 79 cents on the dollar doesn't sound sufficiently awful to you (55 cents if you're Latina), here's another way to look at the pay gap, courtesy of The Hill: Every year, women in the US lose $500 billion in wages to unequal pay, enough for a woman working a full-time, year-round job to "buy food for 1.6 more years, make seven more months of mortgage and utilities payments, pay rent for 11 more months or pay for nine more years of birth control." 
Democratic Presidential frontrunner Hillary Clinton marked Equal Pay Day by releasing a detailed proposal to close the pay gap, including a new law requiring companies to explain why they pay men and women differently for the same work; raising the minimum wage to give the lowest-income women a boost; mandating paid parental leave so that women aren't forced to choose between their families and their careers; and encouraging pay transparency in companies to dispel the mystery around what people earn and give women ammunition when claiming companies have engaged in pay discrimination.
Rewire reports on the latest news on abortion rights from the states, which is predictably horrible (proposals to ban all or most abortions; proposals to ban abortions for specific reasons; proposals to ban the donation of fetal tissue for research). There's also some good news, including the recent FDA ruling expanding access to medical abortion and easing access to contraceptives through pharmacies, for a change.
All of that would appear to set the stage, if anything could, for Democratic Presidential debate moderators to finally ask the candidates what, specifically, they would to to protect and expand access abortion and other reproductive services. As we know, that did not happen, despite persistent efforts from women's rights advocates to urge the moderators to bring it up.
Hillary Clinton was apparently so annoyed about this ongoing oversight that she decided to do something about it.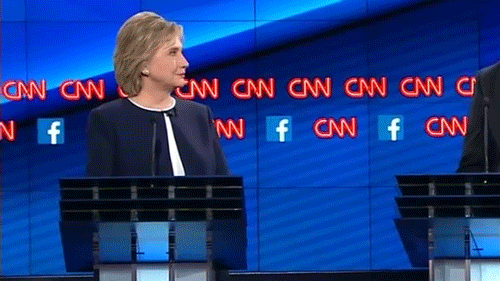 "I want to say something about this, since we're talking about the Supreme Court and what's at stake," Clinton said, according to Vox, which also has the video. "We've had eight debates before. This is our ninth. We've not had one question about a woman's right to make her own decisions about reproductive health care. Not one question."
Clinton went on to mention her opponent Bernie Sanders' dismissal of abortion rights as a "distraction," and description of Planned Parenthood, whose clinics have been the target of increasing violence since the release of fraudulent videos purporting to depict the sale of fetal body parts, as "part of the establishment" he is working to bring down.
"I don't think it's a distraction," she said. "It goes to the heart of who we are as women, our rights, our autonomy, our ability to make our own decisions, and we need to be talking about that and defending Planned Parenthood from these outrageous attacks."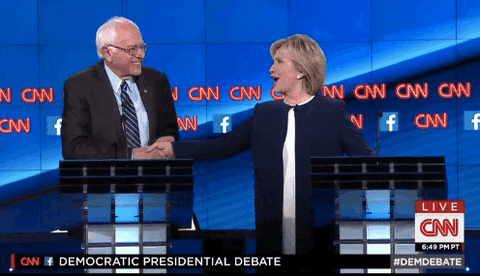 NARAL Pro-Choice America has endorsed Clinton. But if you need a reminder that either of these candidates would be 10,000 percent better than the
metastasizing dumpster fire
that is the leading GOP candidate and his team, check out
Skepchick's
 take on the comments that candidate has made about women, which boil down to, as they put it, "Don't worry, ladies. Donald Trump will take care of you."
Vote #nottrump in 2016!